Share your life lessons with us by writing to lifelessonsradio@gmail. We are currently looking for lessons from Dads, sisters, brothers and pets...specifically dogs for inclusion in our next books.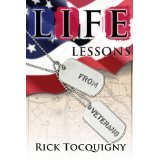 Here's our favorite life lesson from Japan: https://www.youtube.com/embed/75X7G-38xBk
Example: My Mom taught me that we build our character by the bricks of habits that we pile up day by day.

Each seems a little thing, but before we are aware of it, we have shaped the house we live in.